Interview: Kunwer Sachdev, MD & Founder of Su-Kam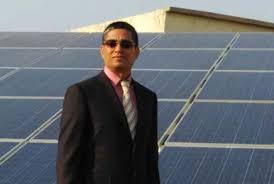 1. How is the overall solar sector placed to meet the set target of 100,000 MW by 2022? What has been Su-Kam's contribution towards the goal?
Over the past five years, the company has established about 100 MW of rooftop solar systems both off-grid and on-grid with 70 percent of the sales happening over the last one year.
The company is working in a number of states and off-grid systems are popular in UP and on- grid systems in the South, particularly Andhra Pradesh. We have developed highly advanced solar products that increase the efficiency and reliability of the system. Hybrid Solar System which can work as both off-grid and on -grid system and our Grid-Tie inverter which can work at low voltage conditions and is able to generate solar power even during low sunshine periods are among our innovative line of products.

Continued here
2. With the industry going aggressive on securing a pie of the opportunity offered, do you think we have somewhere failed to realize that inadequate infrastructure to meet the demand of our developers has affected them adversely?
As the Indian government has set up an ambitious solar target, a large chunk has been allotted to solar parks. But going ahead, inadequate infrastructure like lack of access roads, clean green lands, and clear demarcation of land areas in these solar parks are some of the challenges being faced by project developers. Another challenge is whether India's electricity grid has the capacity to take intermittent power surges that will occur due to renewable energy. The grid should also have the capacity to carry power from regions where power is generated to the regions where power is needed.

3. Do you think putting a safeguard duty on solar panels would be good for the industry? How has inverter business been impacted?
The government has withdrawn it so there is nothing to comment.

4. What is the role of technology in solar power and how is Su-Kam helping in this?
Technology is crucial in making the maximum use of solar energy and reaping the seamless benefits of the sun. The industry is making great strides in terms of technology. Su-Kam is constantly working on new technologies and products within the solar space to offer innovative solutions to Institutional, industrial, corporate and home consumers.
We've introduced innovative products like Hybrid Solar System that can work as both off-grid and on-grid system. Another revolutionary product we've built is Brainy S, a solar UPS that can run all kinds of sensitive appliances. This brilliant product combines the features of Online UPS and Solar Power Conditioning Unit to give reliable and steady power to your computers, modems, servers and other sensitive appliances. Our Solar Conversion Kit which is based on DSP technology can be connected to any existing HUPS/inverter and convert it into a solar hybrid powered system. It's built- in artificial intelligence gives preference to solar power over main supply to either charge the batteries or to run the connected load, hence u[ptilizing the solar power generated optimally.Moving ahead, we are working on IOT and converting all our products to IOT based technology to get the real -time data from the customer location.

5 Tell me about the role of inverters in the overall solar business?
Many people do not realize that the same inverter technology is used in a normal inverter and a solar inverter. All we have to do is replace the battery in a regular inverter with a solar powered one. Inverters convert DC electricity stored in the battery into AC electricity to run our appliances. The same thing happens in solar power; since sun produces DC electricity the inverter converts it into usable AC electricity. With only a small tweaking, a normal inverter works as a solar inverter. That is why inverter has a big role to play in the overall solar business.

6. What is the role of IOT and AI in solar in future?
IOT and AI is the future of the solar segment. We are very aggressive in introducing IOT in all our solar products so that a solar system can be monitored from anywhere in the world. This is something which other players are not even thinking about. In terms of technology, we are 4-5 years ahead of our competitors.
All our products leverage the Internet of Things along with Artificial Intelligence and can be controlled even through Mobile Applications for analytics of the product.
- TradeBriefs Bureau -