Budget 2018: Budgetary allocations for MSMEs up meagre 1%; allotment to Individual schemes up 59%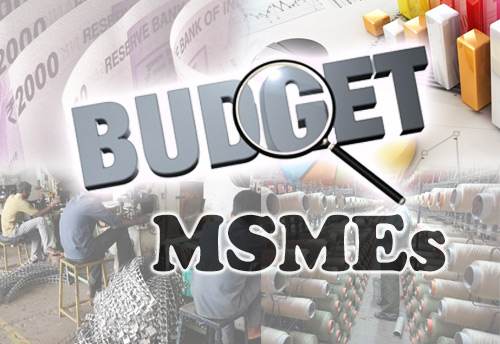 Though the overall allocations for the Micro Small and Medium Enterprises (MSMEs) in Union Budget 2018 rose a mere 1% over the previous year, allocations for individual schemes have increased by 59% indicating governments focus on the all round development and creation of employment opportunities.

Minister of State, Independent Charge for MSMEs, Giriraj Singh said in New Delhi on Wednesday (Feb 7) that, the Union Budget 2018 focuses on boosting the economy by emphasizing more on agriculture and considering steps to generate employment in the country. He said, the budgetary allocation in 2018-19 has gone up to 6,552.61 crore from 6,481.96 crore in 2017-18. Read more:
While, the allocation for National Manufacturing Competitiveness Program has gone up to Rs 1,006 crore in the present budget from 506 crore in 2017-18, the allocation under the Pradhan Mantri Employmet Generation Programme has gone up to Rs 1,800 crore from 1,024 crore to help generate self employment opportunities through 80,000 MSMEs. Also, grant to Khadi sector has gone up to Rs 418 crore in this budget from 265 crore in 2016-17, and the National SC/ST Hub scheme allocation has been raised to Rs 93.96 crore from 63 crore last year.

Similarly, the target for the flagship Pradhan Mantri Mudra Yojana — which extends loans of up to Rs 10 lakhs to micro-entrepreneurs — has been increased to Rs 3 lakh crore from Rs 2.44 crore.

And to top it all, the corporate tax was reduced to 25% for all companies reporting a turnover of up to Rs 250 crore.

Analysts expect, out of 4,721 Indian listed companies that reported their numbers for the year ended March 31, 2017, 963 companies or 20.3 percent of the total could be major gainers. The median tax rate for the above companies is around 34 percent for FY17. Hence, the difference in tax rate, to the tune of 9 percent, is expected to improve their profit after tax margins, thus leading to better earnings visibility.

The industry, however, if not upbeat is hopeful the measures will generate employment opportunities and encourage global investors to 'Make in India'.

Nishith Desai a Mumbai based legal expert and consultant said: The reduction in corporate tax for MSMEs is in line with the earlier proposals of the FM and should enhance competitiveness and encourage global investors to 'Make in India'. The exemption is broad enough to cover 99% of all tax-paying companies.

"It is important that in an era of tax competition where countries have been lowering corporate tax rates, India does not get left behind. While the move to reduce corporate tax rates is welcome, it would have been ideal if the corporate tax rates for large companies were also reduced to make them more competitive in the global marketplace," Desai said.

T Raj Sekhar, Director-SME Ratings at CRISIL said, "The government has announced a lot of tax-friendly measures and hiked customs duties on various products where MSMEs have a strong presence. These will directly benefit labour-intensive industries such as food processing, footwear and leather goods and textiles. There are signs of economic revival, given strong global growth, and an easing in the domestic headwinds from demonetisation and implementation of GST.

Also, it is expected that Finance Minister Arun Jaitley's proposal for easier online access to working capital for MSMEs could be beneficial for digital lending companies working in the space like Capital Float, Lendingkart, Rubique, Cointribe and others to expand their businesses and manage to reach out to a larger section of the country.

However, the industry associations were not so happy!

According to Atul Pande, President of the Vidarbha Industries Association "The most disappointing feature of the Budget was no mention of non-performing assets (NPAs) especially of SMEs. If NPAs were addressed, they would have generated employment. Today many SMEs are functioning at less than half capacity or have closed down. Focusing on new investment is OK but existing industries should also be given attention".

Chandramohan Randhir, President of MIDC Industries Association, said, this is a pro-poor budget and if farmers get more money for their produce, it will lead to increase in consumer spending and boost business and industry. However, the measures should not remain on paper. Randhir, believes, the provision of providing online loans to small and medium scale enterprises (SMEs) is a postive step and will make the bank officials accountable. Today we don't get loans even after running from pillar to post."

Gujarat Chamber of Commerce and Industry (GCCI) said though the budget speech of Finance Minister Arun Jaitley spoke about how the government planned to "announce measures for effectively addressing non-performing assets and stressed accounts of MSMEs" that will enable larger financing of MSMEs and considerably ease cash flow challenges faced by them, the proposals from Gujarat that has one of the highest concentration of small and medium sector players were ignored.

MSMEs in Gujarat had asked the government to reduce the rate of interest on loans provided to smaller industrialists. They had wanted the definition of MSMEs to be alerted to incorporate inflation.

"Nothing much has happened on our demand for a reduction in the rate of interest on loans provided to MSMEs. The large corporates get loans at about seven percent, but when MSMEs go for loans they have to pay an interest of 11-12%. MSMEs can only compete if the rate of interest is lower," Shailesh Patwari, president of Gujarat Chamber of Commerce and Industry said.
- TradeBriefs Bureau -