Budget 2018: Excise duty cut on petrol & diesel to assuage industry concerns; No change in prices for consumers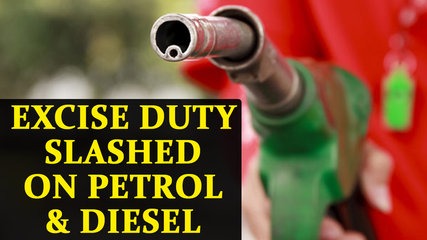 Even as the petroleum sector stays outside the GST regime, the government in the Union Budget 2018 tried to pacify the problems of the industry by reducing the excise duty on petrol and diesel by Rs 2 per litre.

However, the reduction in excise duty will not result in an additional burden on the government, as it has proposed a levy of road and infrastructure cess of Rs 8 per litre, although the additional excise duty of Rs 6 per litre has been removed.

The basic excise duty on both branded and unbranded petrol was slashed by Rs 2. For unbranded petrol it was reduced to 4.48 per litre and on branded petrol to Rs 5.66 per litre. Similarly on unbranded diesel, additional excise duty was brought down to Rs 6.33 per litre and on branded diesel to Rs 8.69 per litre. Read more:
Finance Secretary Hasmukh Adia told a post-Budget media briefing that the changes would not affect the customer since the excise on petrol and diesel has been reduced by Rs 2, which has been converted to cess. Consequently, there is no change in price for the consumer, he said.

Industry players welcomed the latest budget's focus on addressing higher excise concerns, but lamented the lack of measures to reduce the country's huge dependence on oil imports.

K Ravichandran, Senior Vice President and Group Head Corporate ratings at ratings agency, ICRA, said, The budget has changed the tax structure for motor spirit (Petrol) and high speed diesel (HSD) with more taxes aligned towards road and infrastructure cess and less on excise duty, so that adequate funds will be available for the road building programme, without impacting the consumer prices. "However, the budget falls short of the industry's expectations on several tax related issues such as reduction in cess on crude oil for the pre-NELP blocks, clarity in the definition of mineral oil and sunset clause for exploration and production companies," Ravichandran said.

Sudhir Mathur, CEO of Vedanta Cairn Oil and Gas, said, there was little action on addressing the fundamental and immediate need of the economy to attain energy security and reduce the burden of crude oil import at a time when oil prices are rising. Rather addressing some of the important issues like reducing the cess rate from 20 per cent to 8 per cent in line with industry recommendations, creating a level playing field for domestic production vis-à-vis imported crude, and addressing issues of fair pricing and additional royalty burden will spur confidence and help both investment inflow and the nation's energy independence, Mathur said.

Saurabh Bhagotra, Solicitor at Zaiwalla & Co, said, "Finance Minister Arun Jaitly's populist measure of reducing basic excise duty on fuel comes at a time when petrol prices have hit Rs 80 across major cities in India. For the past few years, the excise on the commodity has always remained steep despite crude prices almost halving since early 2016."

Nitin Prasad , chairman of Shell India said, "The energy sector reforms such as steps to curb stubble burning coupled with the outlay of Rs 16,000 crore to distribute free gas connections and power to unserved will give further boost to the economy and broaden access to cleaner energy."

Nabin Ballodia – Partner Tax at KPMG in India, said, the proposal to move from the profit sharing model to revenue sharing model marks a substantial increase in risk profile for exploration and production companies. The commitment of the government to introduce stability in natural gas pricing, encourage exploration and production of shale gas and clear stalled NELP blocks are some positive steps. Increase in withholding tax rate for royalty and fee for technical services as well as surcharge rates would increase overall cost for oil and gas companies. From an overall perspective, Budget 2018 has a negative bias for oil and gas industry.

The government has provided subsidy of Rs 21,733 crore for 2018-19, marginally higher than Rs 22,209 crore in 2017-18. Experts believe, the subsidy provided could fall short by around Rs 11,000 crore, if crude oil prices and INR/USD exchange parity were to stay at $70/barrel and 65 respectively for 2018-19 and the current recovery sharing mechanism continues. "However, this will not materially impact the liquidity and profitability of the oil marketing companies and the upstream companies. The budget has also provided for additional subsidy for LPG connections in rural areas, which will increase LPG penetration and help sustain LPG volume growth at 8-10%," Ravichandran of ICRA said.
- TradeBriefs Bureau -